Sukiyaki
Cooking time: Approx. 30 minutes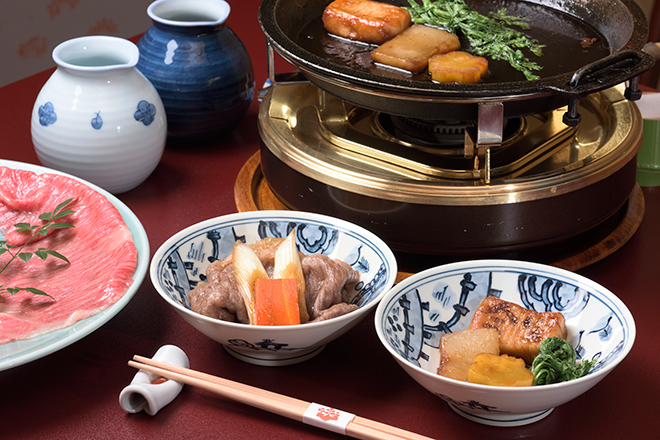 ©Japan Livestock Products Export Promotion Council
Ingredients
(Serves 2)
Thinly sliced Rib loin or Chuck Roll

240g

Shiitake mushrooms

2 pieces

1cm width diagonally cut leek

½ each

3〜5 mm cut carrot

¼ each

Tofu

¼ each

Beef fat

As desired
[Sauce]
Soy sauce

100cc

Mirin

100cc

Sugar

30g

Japanese cooking sake

TBSP 1
[Dashi]
Kombu Seaweed

10〜20g

Water

1000cc
Directions
1.

In medium heat, place beef fat in the pot and add sauce. Add the sauce up to the middle level of the pot.

2.

Once the sauce is heated, spread and place the sliced beef in the pot separately. Flip the beef over when it becomes brown. It is ready to serve when cooked. The sliced beef should be cooked quickly.

3.

Add tofu, leek and other vegetables to the liquid which has beef umami extracted and turn the heat low.

4.

While eating the cooked vegetables, cook beef in empty space in the pot and continue cooking in the medium heat.

5.

If the sauce becomes thick, add dashi and usuwari (Usuwari:Place kombu seaweed in a water in room temperature for the entire evening, cook in medium heat, stop the heat before the liquid boils, take out kombu seaweed)to the ratio of 2:1.
provided the recipe
Ningyocho Imahan Ningyocho Main Store (Tokyo・Ningyocho)
*This recipe is specially arranged for home-cooking, and it differs to one served in a restaurant.