Shabu-shabu
Cooking time: Approx. 35 minutes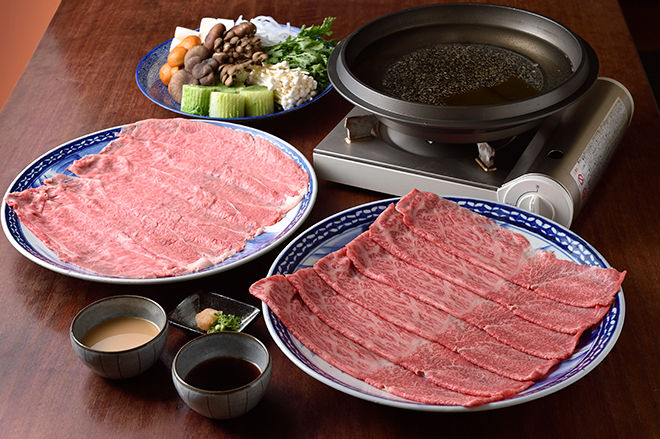 ©Japan Livestock Products Export Promotion Council
Ingredients
(Serves 2)
Chuck roll and top-round of Wagyu Beef, thinly sliced

amount as desired

Vegetables of your choice (green onion, Chinese cabbage, shiitake mushroom, etc.)

amount as desired
[A:Broth]
1,500 ml water

50 ml sake (or wine)

8 cm kombu seaweed

2 tsp salt

1/2 clove garlic, grated

1 tsp black pepper
[B:Standard ponzu soy-sauce sauce]
100 ml soy sauce

50 ml rice vinegar

50 ml mirin

lemon juice, amount as desired
[C:Sesame sauce]
100 g sesame paste

200 ml water

50 ml soy sauce

30 g sugar

10 ml miso

1 tbsp rice vinegar
[D:Fruity ponzu soy-sauce sauce]
juice of 1 grapefruit (180 ml)

50 ml soy sauce

juice of 1/4 lemon

dash of mirin
Directions
1.

Put water and kombu seaweed in a pot and let stand for at least 30 minutes.

2.

Add all ingredients besides water and kombu seaweed into the contents of step 1 and bring to a boil.

3.

When Soup [2] simmers, turn the heat down. First, sway sliced meat few times in the soup, then eat with a sauce of your choice. The meat should not be overcooked, and can be best enjoyed when its color is pinky-white.
After finishing meat, remove the scum floating on the soup, and start cooking hard-to-cook ingredients first, then enjoy them with your favorite sauce once it's ready.
※Do not overcook meat.
※Vegetables can be enjoyed better when cooked with a broth that contains the deliciousness of meat.
※Removing scums reduces bitterness.
provided the recipe
Hida Seasonal Cuisine Sakana (Takayama-shi, Gifu Prefecture)
*This recipe is specially arranged for home-cooking, and it differs to one served in a restaurant.