Hamburger Steak
Cooking time: Approx. 30 minutes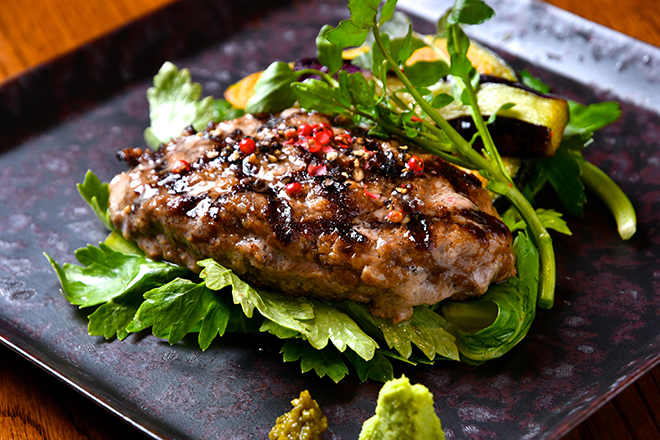 ©Japan Livestock Products Export Promotion Council
Ingredients
(Serves 2)
300 g lean Wagyu Beef, finely chopped into a mince using a knife

1/2 egg, beaten and well chilled

40 g sautéed onion, made by frying chopped onion and cooled

4 g salt

0.25 g black pepper

1 g nutmeg

3 g fresh bread crumbs
Directions
1.

Mix the ingredients other than beef in a bowl placed inside another bowl containing ice. Add the beef and mix well. Divide into 200 g portions, slap the patty with your hands to let the air out, and mold into the shape of a rugby ball.

2.

Put salad oil in a heated frying pan and cook the patty on medium-low heat for 3-4 minutes with the lid on.

3.

Flip the patty once the surface is browned and cook for another 3-4 minutes with the lid on. The steak is ready when clear juice oozes from the surface. Serve with wasabi or yuzu kosho as you wish.
provided the recipe
Tsubameya Wagyu Grill (Ginza, Tokyo)
*This recipe is specially arranged for home-cooking, and it differs to one served in a restaurant.